Sending electronic Christmas cards - A guide for businesses
The traditional Christmas card - made of fine paper - at the end of the year has a firm place in our business culture. in our business culture. It is good manners to express one's appreciation to customers, suppliers or employees in this way. to express their appreciation in this way.
Like all things, this tradition is subject to more and more change, and from many different From many points of view, the map on paper no longer seems so contemporary at first glance.
But what exactly is the electronic version all about? and can it represent a real alternative?
What exactly is an e-card or electronic card
First of all, an e-card is a digital visual content, like an image or a video. This is then also transmitted digitally to the recipient. Usually by e-mail or a comparable comparable messaging program, i.e. messenger such as WhatsApp or similar. Parallel the card motif is also often used on the company website or social media channels. channels.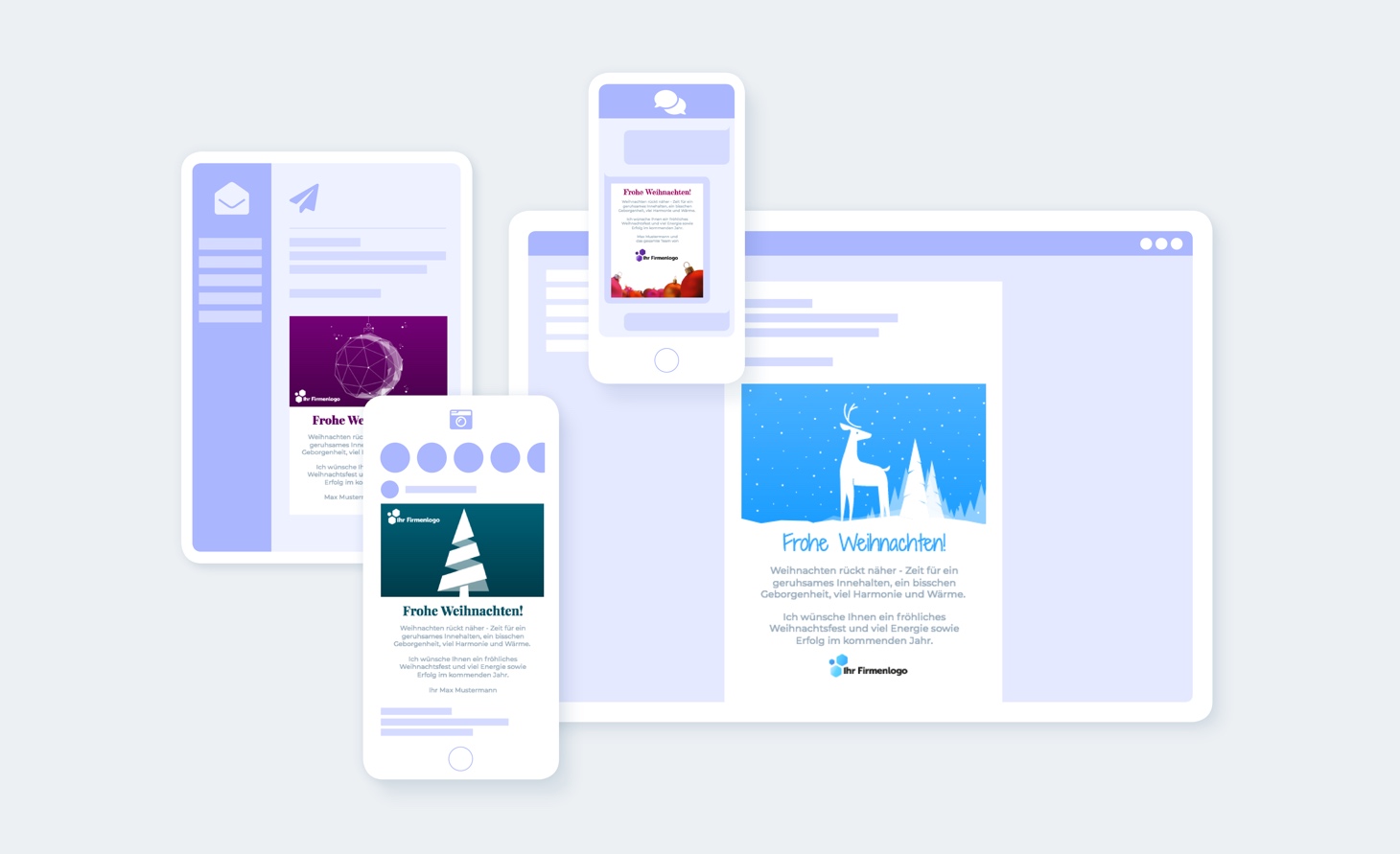 Less is often more
The forms of electronic cards are varied. In the simplest case they are, images specially optimized for the Internet. But also animated image content, such as the popular GIF format, or video content are possible. However, it must be remembered that video content video content is not necessarily displayed optimally to every recipient. E-mail programs of the recipients are often not optimized for the display of moving images and the desired effect is is completely missed. Simple image content has the highest probability of being visible to the recipient in an recipient and thus leave the desired impression.
Motifs and rights of use
Of course, there is an almost inexhaustible number of image motifs on the Internet and what would be more obvious than to simply make use of them. Of course, this is not so easy, especially in the business sector. simple. Before you can use a picture motif for your electronic card, you first have to acquire the corresponding acquire the corresponding rights of use. Copyright protects these from arbitrary use. use. These usage rights are usually restricted in one way or another. Possibly regionally, so that you may only use them in certain countries, or as to the number of recipients or the time of use.
Unfortunately, these factors are not readily assessable in online use, which further further complicates matters.
Customization
Assuming you have found your image motif and acquired all the necessary rights of use. Including the right to adapt the motif according to your ideas, i.e. to add texts or your company logo or to adjust the colors according to your company's image. Provided that all these points have been clarified, all you need now is a graphic designer or or appropriately trained employees who can make the desired adjustments and produce the image in an in a form optimized for online use.
Sounds complicated? It is.
Why you should still not do without your electronic Christmas card
But don't worry, we would like to offer you our solution in the following:
With our service, we offer the all-round happy solution for the above challenges.
Choose from a variety of modern and appealing motifs for our e-cards - designed by the professional and experienced designers of Eco-Cards.
With our online editor you can completely customize your desired motif in a few simple steps and change text, font and color according to your wishes, as well as add your company logo. add.
Save your so designed motif free of charge and without obligation for further tuning.
We will then offer you your individual electronic Christmas card for sale without obligation. offer.
Included in the fair fixed price of € 99,- incl. taxes are extensive rights of use for the business use. This way you are completely on the safe side, because the rights of use are neither regionally, nor temporally, nor with regard to the number of recipients limited.
Discover your e-card motif now and test our service free of charge and without obligation.
To make your decision a little easier, we will give you a 15% discount on the final ticket price with the following code:
You might also be interested in